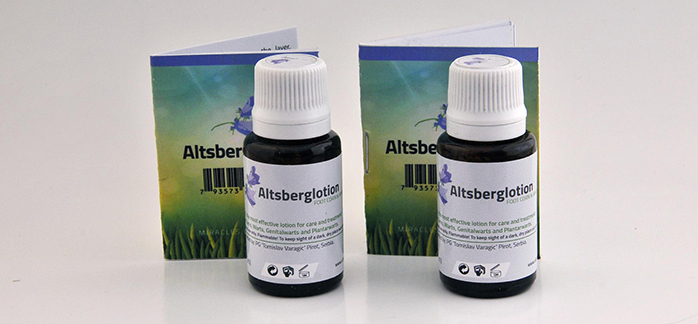 Straight from nature at your service.
Altsberglotion's Corn and Wart Remover is a natural medical product for treating skin changes caused by the Human Papilloma Virus (HPV). Get rid of Corns and Calluses, Warts, Plantars, Genital Warts (Condylomas) , or Skin Tags in the comfort of your home! All these painful skin changes will not stand a chance. Our natural remedy is extremely effective and perfectly safe, with a very low percentage of the recurrence rate.
"
What are the main ingredients? How does it work?
Altsberglotion's balm has a strong keratolytic effect. Furthermore, the synergy of 100% natural active ingredients in Common Houseleek oil (Sempervivum Tektorum), Ivy (Hedera Helix), Wild Mint (Mint Piperita), and the properties of Salicylic acid, make the balm invincible against the HPV virus. The carrier of the balm is cellulose dissolved in an organic solvent, which fixes the healing properties of the herbs and eliminates the virus.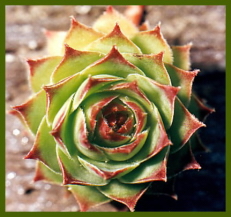 The advantages of Altsberglotion's Corn and Wart remover over other products?
Whether you struggle with foot corn, plantar warts, or condylomas, or even skin tags on face and neck, with our balm, you will know how to safely remove all these peculiar skin changes, all by yourself.
It is perfectly safe and easy to use at home. Unlike other products, with our balm, you do not need plasters, bandages, or cotton pads. Therefore, there is no additional pressure on painful spots, and you can easily wash or rinse the treated area. Significant treatment results were recorded after only 7 days of using our product.
Our balm has proven results of corn and warts removal, and it is ideal for home use. It is fairly affordable, and its price-quality ratio gives Altsberglotion's balm a great advantage over other competitive products.
How to use the balm? How long does the treatment last?
For best results in corn and warts removal, it is necessary to use the product continuously for a specific period of time. You may shower, wash, and rinse the balm, but do it carefully. Avoid rubbing the treated areas with a sponge, hands, etc.
Read more below:
Is there a relapse after the treatment?
Over 95% of the population are carriers of the HPV virus. However, it frequently occurs on the skin surface due to a weak immune system, or an external exposure to the virus.
Unlike standard methods for treating viral keratoses (liquid nitrogen freezing, laser removal, or electrocoagulation), our balm penetrates deep into the skin and affects the virus underneath the skin surface! Our balm permanently removes the effects of the HPV virus! Recurrence rarely happens, and if the treatment is carried out according to the instructions, the results will be permanent.
Important notice!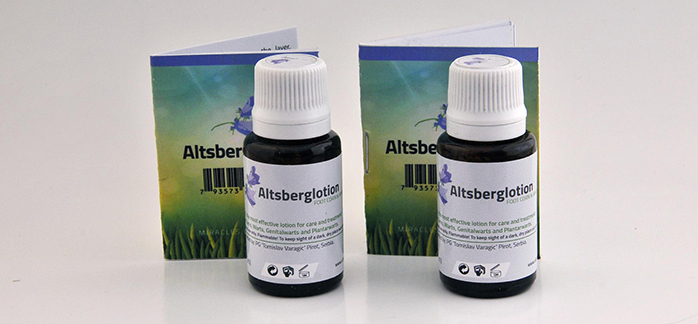 Altsberglotion's Corn and Wart Remover is not a cosmetic product, but a strong natural remedy for treating HPV. Treat affected areas only. If the balm gets on healthy skin, rinse well with cold water, and seek medical attention.
Pay attention to your skin reaction. If the irritation occurs, stop the treatment immediately. Rinse off the balm, and treat the area with a moisturizer.
Pregnant women and people with circulatory disorders must not use this product.
People suffering from diabetes (Diabetes Mellitus) should not use this product, as it may cause severe contraindications.
It should not be used by people with sensitive skin or on children under 10 years of age. Avoid applying the balm to soft children's skin or face. If necessary, the treatment should be carried out carefully, and in the presence of parents.
Prior to the use, consult with your doctor/pharmacists about the side effects of the product.
Other notes:
Expiration date: Good for 90 days after you first open the bottle
For external use only, adhere to the instructions.
Store in a dark, dry place, away from children.
Package: Glass bottle 15ml
 
PRICE:=29,99 $
FREE SHIPPING Worldwide!
Payment method: PayPal.
Delivery time: 7-15 business days