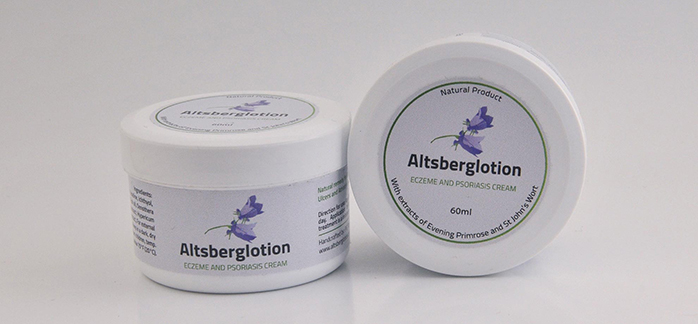 Doctor helps, nature heals, and our natural medical products are here for you to prove it!
Altsberglotion Eczema and Psoriasis Cream is a 100% natural remedy with a unique formula and strong antiinflammatory, antibacterial and antiseborrheic properties. It is extremely efficient in healing Eczema and relieving its symptoms (rash, blotches, itchiness, seborrheic dermatitis, etc). Thanks to its medicinal properties, it showed astonishing results in treating Psoriasis. After using the cream for one month only, the retreat of skin lesions was remarkable.
Our Eczema and Psoriasis cream effectively removes acne, skin ulcer, insect bites, athlete's foot, and other fungal diseases. It is highly effective in treating frostbites and improving blood circulation, and we highly recommend it to all those who enjoy outdoor activities.
Read more below:
How does Eczema and Psoriasis cream work, and what are the ingredients?
With a careful selection of mountain herbs, we have created a unique formula with strong beneficial effects on damaged skin and lesions, thanks to its powerful combination of 100% natural active ingredients.
The main ingredient of Eczema and Psoriasis Cream is Ichthyol, a bituminous mineral containing fossil fishes rich in sulfur, phosphorus, and fish oil. Other active ingredients include Evening primrose Extract (Oenothera Biennis), ideal for treating acne and pimples, and St.Jonh's Wort (Hypericum Perforatum), whose antibacterial properties are extremely beneficial for skin inflammation and regeneration.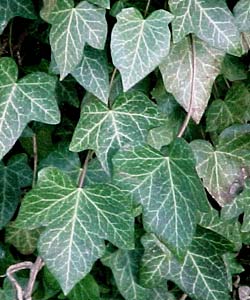 What makes Altsberglotion Eczema and Psoriasis cream stand out among other products?
Our product is 100% natural, and it does NOT contain corticosteroids or any other harmful or artificial ingredients. Therefore, it is perfectly safe for everyone to use, including 6 months old babies, adhering to the instructions. Additionally, our cream is highly absorbent which makes the skin heal faster, eliminating pain and itchiness.
How to apply the cream? How long is the treatment?
Apply the cream in thin layers, once or twice a day, in the morning and in the evening. Dermatologists recommend using Panthenol cream as well, in the afternoon, to keep your skin hydrated.
In the beginning, use the cream on small areas only, on up to 3% of your Total Body Surface Area (which equals 3 sizes of your palm). After 5 – 7 days, if you see no reaction or allergy symptoms, you may gradually increase the treated area.
Use baby cosmetics or recommended formulas in the shower.
Use the cream for at least 20 consecutive days, but no longer than 3 months. Make a ten-days break before you continue the treatment.
Eat healthier, avoid fatty and spicy food and meat products, alcohol, and cigarettes. Drink a lot of water, keep fit, and the results will be visible shortly.
Is there a relapse after the treatment?
Our research has shown that two persons with similar traits and symptoms may have different results. Nevertheless, the treatment was extremely effective in all cases, showing best results in treating all types of eczema, rosacea, psoriasis, acne, ulcers, fungal diseases, and other skin disorders.
Relapse is closely related to the effect of various external factors on our skin. People suffering from Eczema and Psoriasis should strictly adhere to the instructions regarding diet, cosmetics, and recommended cleaning products.
Disclaimer:
The cream is not a cosmetic product. Apply it on the affected areas only.
Prior to the use, consult with your doctor/pharmacists about the side effects of the product.
Pay attention to your skin reaction. If any allergy symptoms occur, stop the treatment immediately, and contact us. You will get a full refund.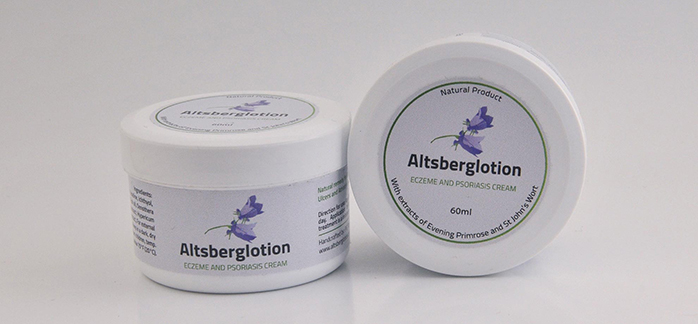 Other notes:
Shelf life: 12 months.
For external use only, adhere to the instructions.
Store in a dark, dry place, away from children.
Package: 60 ml
 
Price = 33,99$
FREE SHIPPING WORLDWIDE!
Payment: PayPal.
Delivery time: 7-15 business days.