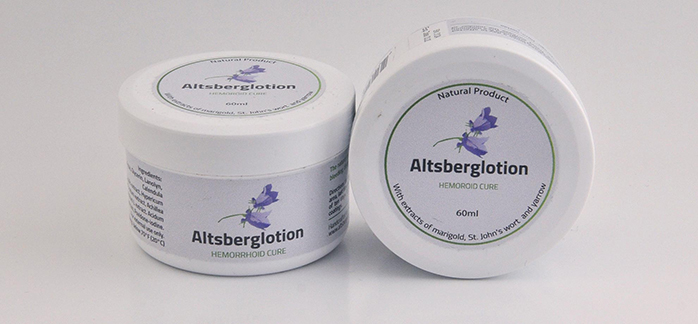 How to get rid of hemorrhoids? We have a solution for you!
Altsberglotion Hemorrhoid Cream is a 100% natural hemorrhoid cure. All of its ingredients have been carefully selected, and combined with traditional preparation and natural raw material base to give this product miraculous healing properties, proven by thousands of satisfied customers.



What are the main ingredients? How does it work?
Altsberglotion Hemorrhoid Cream is a natural product with no toxic ingredients. The synergy of medicinal herbs and natural substances accelerates healing and successfully eliminates painful and unpleasant inflammation caused by hemorrhoids. Its natural formula includes essential oils of three types of herbs: Marigold (Calendula officinalis), St John's Wort (Hypericum perforatum), and Yarrow (Achillea millefolium). Lanolin is a fat obtained by processing sheep's wool, and it is the carrier of the cream. Additionally, it acts as a strong natural emulsifier that combines all the ingredients and has significant preservative properties as well.
The advantages of Altsberglotion Hemorrhoid Cream over other products
Altsberglotion Hemorrhoid Cream has NO side effects.
It can be used by people of all ages, and in pregnancy.
It quickly eliminates the pain and itchiness.
It is easily absorbed and facilitates digestion.
It stops the bleeding and has strong antiseptic properties.
How to use the balm? How long does the treatment last?
If there are no symptoms of heavy bleeding, severe pain and inflammation, or unbearable itchiness, use the Altsberglotion hemorrhoid cure once a day, before bed. You may apply it both around the outside, and the inside. The restriction 'for external use only' means that you should not ingest the product.
If you have any of the abovementioned symptoms, apply the cream a few times a day. The duration of the treatment is individual. However, it has been proven that the first results can be seen after only 4-5 days of using our product. Most symptoms will go away within that period of time, but you need to continue using the balm for at least another two weeks, or even longer if necessary. There is no time limit on the use of the balm.
Read more below:
Can Altsberglotion Hemorrhoid Cream cure anal fissures?
An anal fissure is a fissure (a small tear) in the anal canal.
If the fissure is of a recent date, that is, if it was not "neglected" in the treatment, our balm will successfully cure it thanks to its unique composition.
Namely, the Altsberglotion Hemorrhoid Cream's formula also includes Boric acid (Acidi Boricci). Its properties immensely contribute to the healing effects of the cream. Boric acid is non-toxic (it is safely used on newborns), and has an intense effect on narrowing blood vessels. Its anti-inflammatory and analgesic properties are extremely beneficial for the treatment of anal fissures.
However, if the anal fissure is chronic, then, unfortunately, the surgery is the only option.
Is there a relapse after the treatment? Can hemorrhoids grow back?
Altsberglotion Hemorrhoid Cream effectively reduces the symptoms within 4-5 days into treatment. However, if you want to remove hemorrhoids with long-term results, surgery may be the only way. Even then, the recurrence rate is very high.
Hemorrhoids are usually caused by increased pressure due to pregnancy, being overweight, stress, straining during bowel movements, and so on. Studies have shown that, in the majority of cases, symptoms occur due to improper diet, or genetic factors.
Therefore, the final solution is in your hands. To be able to cure hemorrhoids permanently, you need to learn what it is in your daily routine that causes the occurrence of the symptoms. Once you find the reason why, you will no longer need products or treatments of any kind.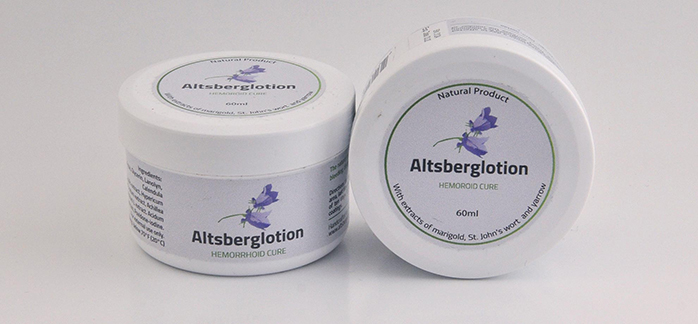 Important notices
Prior to the use, consult with your doctor/pharmacists about the side effects of the product.
Expiration date: 12 months after you open the bottle
For external use only, adhere to the instructions.
Store in a dark, dry place, away from children, up to 20˚C
Package: 60 ml
Price: $25,99
Payment: PayPal.
FREE SHIPPING WORLDWIDE!
Delivery: 7-15 business days.