Carefully selected natural ingredients in combination with traditional production, flawless, pure natural supply of raw materials, had to give this cream extraordinary, we can freely say magical togetherness. Therefore this is a cream against hemorrhoidswhich actually works i.e. it absolutely justifies its name in what is convinced thousands of our satisfied and extremely appreciative users.
How does the Hemorrhoid cream works and What are the main ingredients?
Altsberglotion-Hemorrhoid cream is a natural product which in synergy of healing plants and herbs successfully removes painful and unpleasant inflammations caused by hemorrhoids. For making this cream we use essential oils of tree types of herbs: Marigold (Calendula officinalis), St John's-wort (Hypericum perforatum) kao i Yarrow (Achillea millefolium). Lanolyn, which is the carrier of the cream, presents grease of animal origin that we get by processing wool from a sheep and that grease has a beneficial effect on damaged tissue. Also Lanolin is a very strong, natural emulsifier i.e. combines all the substances in the cream and also has a significant means of conservation.



What are the advantages in comparison to other products and methods?
Quickly removes pain and itch
Easily absorbs and facilitates digestion
It stops bleeding and owns strong antiseptic fact
There is no need for keeping any kind of diet during the treatment, but its recommended to avoid spicy food, coffee and alcohol
Contraindication - NO!
How to use the Altsberglotion–Hemorrhoids Cream and How long does the treatment lasts?
The cream in its composition does not have anything harmful for persons health! We have already sad that its completely natural and beneficial. If there is no heavy bleeding, inflammation accompanied severe pain, severe itching and similar, than it is enough to put the cream once per a day before bedtime.
If you have more serious problems you can exhale numbers of coating. The last of the treatment is also individual but one thing is sure, you will feel better after only 4-5 days. Therefore, the most of problems will disappear but you will have to continue with coatings at least for two weeks. There is no time limit for using the cream. The cream can also be used by pregnant women, and persons from 0-99.
Read more below:
Does the cream works on Anal Fissure?
This is one of most often questions on which we can give an answer. This cream in its composition has also boric acid (Acidi Boricci) in a certain percent and form. Boric Acid is non toxic (it is used for washing eyes for children and newborns) and has one very interesting feature, it works intensively on the narrowing of blood vessels, their withdrawal and collecting. Also it has anti inflammatory and analgesic effect.
Why is this important in this story?
Anal fissure represents a split, wound, a fissure of anal sphincter muscle (a muscle which is found on the end of anal orifice) so, if the anal fissure is acute, this cream will expose very strong, beneficial effect, just because of magic composition in it. But, if anal fissure is chronically, unfortunately, a surgeon is your only choice!
Does it comes to relapse after the treatment, i.e. Are the Hemorrhoids coming back?
This is one very interesting question which people who suffer from hemorrhoids ask very often. Here is the right answer:
Hemorrhoids are vascular structures in the anal canal. In their normal state, they are cushions that help with stool control. They become pathological or piles when swollen or inflamed. The signs and symptoms of hemorrhoids depend on the type present. Internal hemorrhoids usually present with painless rectal bleeding, while external hemorrhoids may produce few symptoms or if thrombosed significant pain and swelling in the area of the anus. A number of minor procedures may be performed if symptoms are severe or do not improve with conservative management. Surgery is reserved for those who fail to improve following these measures. Up to half of people may experience problems with hemorrhoids at some point in their lives.
All the balms, medications, creams, greases, teas, on this world more or less can work on symptoms of hemorrhoids like pain, bleeding, itching etc. But, Altsberglotion Hemorrhoids cream has a strong effect on mentioned symptoms. Pain, bleeding and itching disappears after only 4-5 days!
But...
If you do not want these symptoms to come back (and you sure do not) you have to work on yourself and discover what is that what is bothering to you and which is the reason for you to have this kind of problems. The trigger for appearance of the symptoms is individual. It depends from person to person. Someone is bothered by spicy food, someone sour food, someone alcohol, other stress etc.
Then, we have to mention physical strain as very important factor for hemorrhoids (like pregnant women on delivery), and also we can not neglect genetic factor as one of most important factors in the occurrence and development of hemorrhoids. Tests have shown that it is still feeding as well as other external factors (sitting, inactivity, stress) of crucial importance, for what we need to pay attention. Analyze all of these factors, and finally come to the right conclusion and answer the essential question:
What is that what bothers to me, and brings me to have problems which are caused by Hemorrhoids?
When you have a right answer on that question, after that you sure will not need any kind of balm, cream, grease, tea etc. Permanent healing of hemorrhoids is completely in your hands.
What is important to know, and on what you should pay attention?
About indications, precautions, and adverse reactions, consult with your doctor or pharmacist.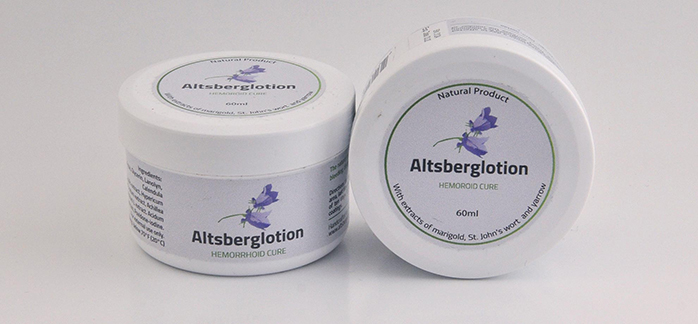 Other notes:
Shelf life 12 months from the shipment date.
Only for the external use following the enclosed instructions.
Store the Cream in a dark, dry place away from children, at temperatures below 20 C.
Packing: 60 ml.
 
Price: =25,99$
Delivery time: 12-14 working days.
Worldwide FREE SHIPPING ! Buying with any kinds of credit cards or PayPal.